As predicted, Kim is the new Miss Oriental 2009.. There are few close competitors though, but she manage to gain popularity and win! hehe... 
The grand finale starts at around 9.30pm where there were alot...i mean ALOT ppl and photog especially. Jammed man... whole D'junction was cramp! Me and Jessica reach there around 8.30pm, enter the D'Junction without tickets... MSJ ma.. haha.. den went upstair to meet up with the geng at Spice smtg smtg for dinner. Nice foods! After some tid bits and chit chatting, work started, preparing and finding suitable place to shoot. Thankfully, Jessica and Lamlam manage to secure a very nice place. Thanks!
Meet back quite a number of ppl there, like Roy, Krysham, Vivian, Stephen, Isrol, Nasier, Jackson, Valentine, and alot more... it was very nice. IM happy to be one of the team member, the so call official photog lo, although... im keh leh feh only! hehehe...
The event starts with some dancing and performing before they called up the finalist. Everyone was like shouting, screaming like mad when they see their 'idol'. LOL.. and the photog, as usual la..
But sorry ya, i really do have to comment abit. Those unofficial photog and 'kids' are really messing up the whole show, blocking our view and shots. Really got fed up man... feels like wanna hantam their head with my DSLR. Some even use digicam, HP!! to block us... It's ok if u 'kids' were there but pls, dont block our view! quite anumber of us (the team) gt real fed up and frustrated. Yus, James, all goyang kepala! They like coming there, shoot for no reason, and den wat? kacau nia... ish! Sorry ya if i've offended any of u (photog) who might have read this but im just saying the true. We gt jobs to do, and seriously, we need tags la, and special place for us. Not cramping with those...! pity some of our team member cant shoot, dissapointed and get back home early instead..
anyway, the show run.. run... run... with performers, magic shows (very good one! im impressed), Bian Lian (change face), and some... hehe... so call dance lo. Im really bad man.. criticising all the way with Jessica... habis la if they heard us, hahaha! the video camera on top of us might heard us too! omg! hahaha..
Judges, ya.. there are 4, but i cant remember la, i know got Jonathan of Breeze, and Cassandra, Miss Oriental Malaysia. and come on, if she stands out, no finalist can match her la, they can say goodbye and go home. ahha.. except some la of cos! sorry again! hahaha...
so, here comes the winner, Kim, the new Miss Oriental 2009, Crystal and Pearl took the 2nd and 3rd. And there is some other awards la, like Miss Popular, Miss CHeongsam, Miss COngeniality, etc etc. The grand winner took home RM5000 and alots of goodies and fame! hehe.. COngrats Kim! Show ends almost 3 smtg in the morning.. crazy d!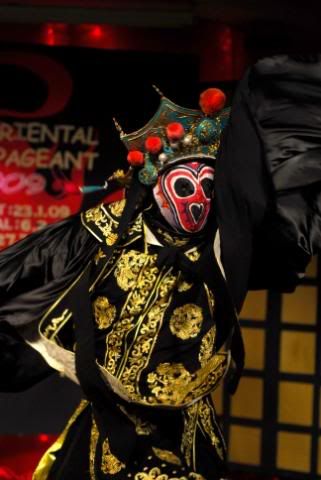 We stayed awhile, sing Birthday songs to Anne, the main main organiser for this event in D'junction. She really did alot of hard works and efforts! Bravo! After some little celebration, we went bac lo.. Reach home around 4am ade, on9 awhile and terus sleep.. jus that, i duno why, i woke up at 8.30am! arr... and thats why im crapping here in my blog so early.. like a drunk guy!
Bokeh Look!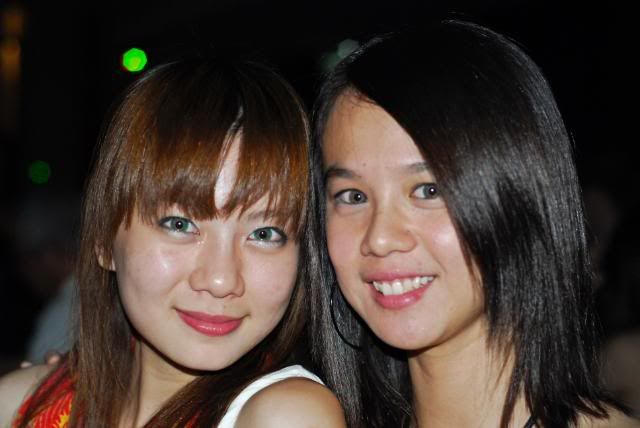 Lamlam and Jessica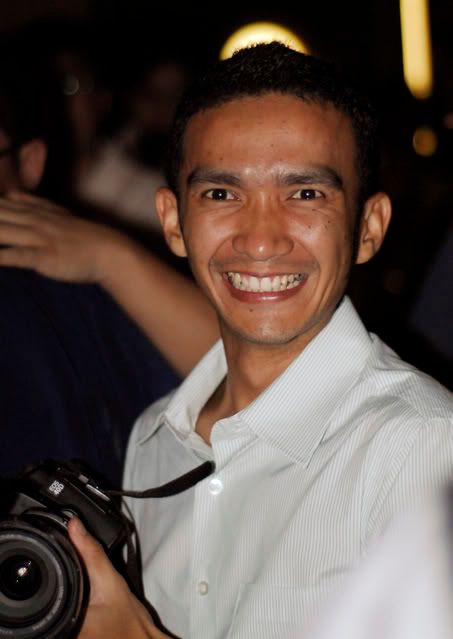 Izrol
Love the rays of lights
Really thanks so much to everyone involved! Thanks for giving me this oppurtunity and good job everyone! Photos will as usual, uploaded in FB. 
Photos from Stephen and Vivian. Thanks!
Jessica and me
Me, Jessica, Lamlam and Vivian