September 4, 2009
I've decided to pay a visit to BMA again, tagging Beh along. Start my journey at around 7.30am, and stop by at Kg. Jawi to pick up Beh.. We reach Bukit Merah at around 9am, and headed straight to the farm, which is located less than 5 minutes from the Bukit Merah Exit.
We went straight into the office and met Lin, the person-in-charge that i knew during the Aquafair 2008. Sat down for some discussion and business-alike before headed to the farm. Once again, we were given the chances to witness and took photographs of the overall process of harvesting the arowanas! :D I was surprised that some of the staff remembered me, and it was something about a student from Sabah documenting the process :S
BMA have over 400 ponds, culturing few different variants of Arowana such as Malaysian Golden, Blue Base, High-Back, Cross-Back, Solid Gold, Chilli Red, Super Red, Banjar Red, Silver, Green and few more types... It always amazed me to see such magnificent fishes in the ponds, and the harvesting process-stripping the eggs out is cool! I was lucky to be given the chance~ Thanks Lin @ BMA!
Anyway, enough brief introduction and let's head to the photos itself! :P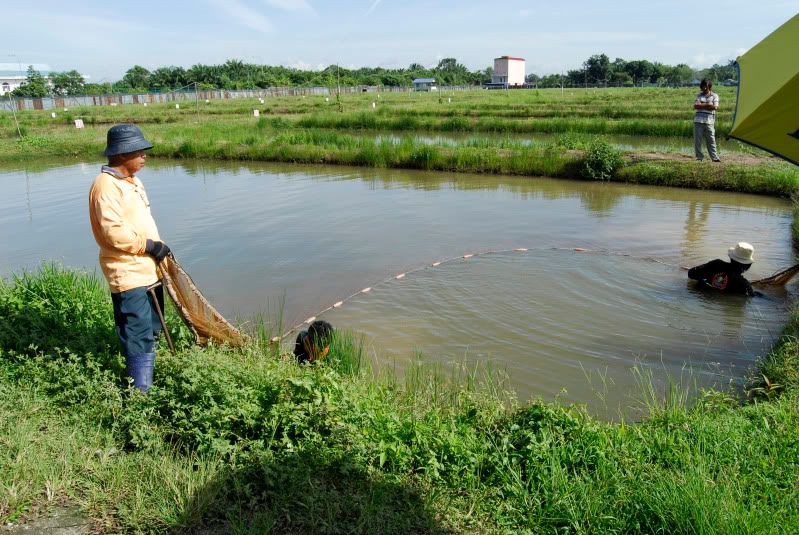 After the visits, we decided to 'kacau' Junyi, another coursemate of mine in somewhere between Bkt Merah and Taiping. We went for a short trip round Taiping town, visiting the Taiping Lake Garden, Maxwell Hill - Burmese Pool, and few more sight seeing... and not forgetting, FOODS!
We stop by a famous hawker centre, and i ordered Seafood porridge (ooo i love it!) and Fruit Rojak (craps!). We also have Ais Kacang as tea-time.. very cheap, 4 plate only RM5! Im surprised, after so long, being use to pay high prices in big town such as Kota Kinabalu and Kuala Lumpur. Northern area like Penang is still the best, food heaven; cheap and taste extremely good!
Photos are still under-editing, so.. hang on! :P