Recently i have the chance to tried some nice famous tasty foods of Penang while on a roadtrip and visits. As a Penangnites, honestly, i don't know much about all the famous spot, as i felt we doesn't need to go far to get tasty food in Penang, it's everywhere! :D
So here, i'm sharing with you guys places to get nice food around Penang, and will regularly update this blog with my food hunting! btw, for food trip, N95 makes good companion, not too big like DSLR to make it feel awkward! haha.. just kidding...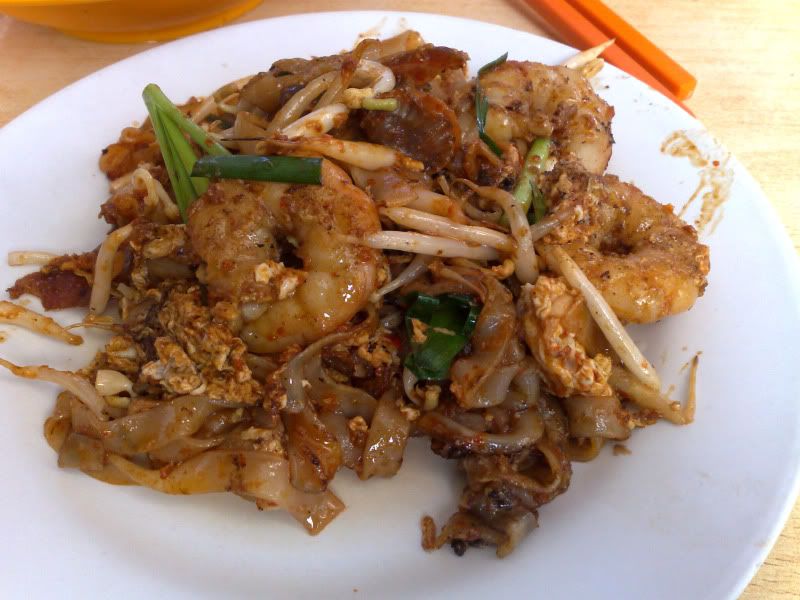 This is the famous Char Koay Teow in Penang. It is located at one small shop (forgot the name) on Lorong Selamat. Pretty much near to the Umno building near Komtar. It is prepared by few aunty taking turns cooking, as the orders coming in like mad all the time. Customers would line up, waiting for tables and average time to get your Char Koay Teow is around 30minutes per table. Imagine that! Nothing spectacular about it actually, except for the BIG prawns which is really fresh! Overall, i rated 4.5/5 for this koay teow.. and it doesn't come cheap, it cost RM7 each plate, 3 times more than normal Char Koay Teow! One reminder, do not order the Ice Kacang there though... it don't taste good. Fried Oyster Omelet is good though.
This is the newest thing i tried in Penang island. It's called Chicken Chop just like everywhere else, but the gravy is different. The chicken piece is also wrapped with eggs and fried together, and top with potato gravy and some peas. It was smooth and creamy, but IMHO, not rich enough in taste and flavour. Rated 4/5. Price forgotten. Oh, it was located on the roadside of Burmah Road, just beside Hong Leong. Small coffee-shop, with a nice 'kopitiam' feel.
And this, was not actually Penang famous.. actually it's my dinner! haha.. mom bought this HUGE prawns for Rm40 for 12 prawns. We asked our chef to cook "Kam Heong" style and it taste good! 2 prawns per person is more than enough.. :D