Last sunday, 27 Dec 2009, Dr. Sergey and his friends come to Penang for a visit and also gives seminar on guppy genetics. It was very nice to meet all of them.
We visited Andrew's shop, my place, Helven's shop, Penang Bird Park and Yong's shop. It was a fun day, a nice day trip with my new Russian friends. Dr. Sergey and his wife (i'm so sorry, i cant recall your name, pls let me know ya if you see this.. thanks!) came from Moscow, Russia while Tanya and Eliante (wrong spelling maybe, i'm so sorry) is currently working in Singapore.
We had good chats all day long, sharing experiences from both country, learning bits of Russian and Malay. Besides visiting fish places, of course, food! We went for ice kacang, chendol, laksa, coconut drinks and etc. At night, Dr.Sergey gives us some seminar on guppy genetics, at Pantai Bersih seafood restaurants.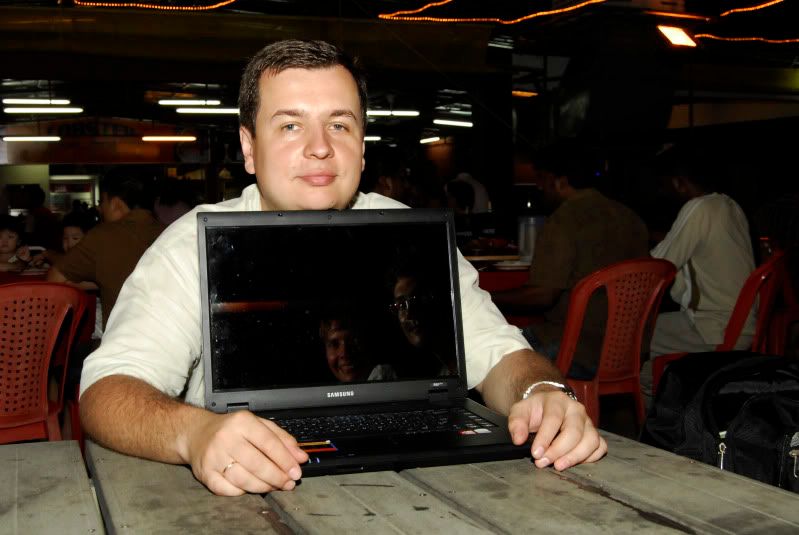 It was very new for me, and thanks Dr.Sergey for the whole new color cart that i'm assure, it will be very helpful in developing strains in fancy guppy in the future. During the seminars.. we have some Q&A, to get better understanding (and i recon to others, to have some knowledge on basic genetics first, to get a clearer picture). However, Dr.Sergey took very good and clear microscoped photos of the guppy skins and pigments to further clarify the statement.
We had a sumptuous seafood dinner, with rays, mantis shrimps, clams.. We finish at about 11 smtg.. but the accident on the Penang bridge was bad, and the ferry waits are too long! We went to mamak for a drink and chat before heading to the bridge to found out that it is finally cleared. I think we reached the Tunes Hotel at about 12 smtg and bid goodbyes. I was invited to join them to Langkawi but, well.. i dont wanna disturb their trips.. maybe next time.. :p
Really hope to see you guys again, and it's either Singapore or Moscow (let's hope for a cheap airfares :P )
Both are working in Singapore, and was very nice to chat with.. hope to see them again soon!